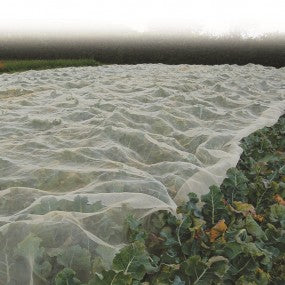 Enviromesh Roll's
£132.00

£132.00
Tax included.
---
---
Enviromesh Crop Protection Netting provides considerable protection against wind, hail and heavy rain. The Crops tend to be earlier and suffer less from physical damage they also tend to need less water under drought conditions. The crop may be watered (or fed with liquid fertiliser) through the mesh.
The mesh will also give some frost protection. It is particularly effective in protecting mature vegetables (e.g. cauliflower and calabrese) from autumn frosts.


To protect more tender plants from frost (e.g. early potatoes, dwarf and runner beans), Envirofleece should be used.
Soil conditions are also improved, by the reduction of capping and puddling. This allows better germination and survival of seedlings. The plants also appear to make more efficient use of fertilisers.
Most vegetable crops, and soft fruit, may be protected with Enviromesh, including: Cabbage, broccoli, cauliflower, sprouts, turnips, swedes, radish, carrot, parsnip, celery, spinach, parsley, onions, leeks, peas, lettuce and all types of oriental vegetables. Strawberries, raspberries and currants may also be covered.
 Do not cover plants during flowering if they depend on pollination by bees (e.g. beans and strawberries).
The mesh may be removed for short periods to allow for weeding. If possible this should be carried out during cool, breezy conditions when insects are less likely to be flying.

Other Uses
It may be used to cover cold frames or cloche hoops. It may also be used to create 'insect proof ' door curtains for the greenhouse or conservatory. Cover cages for the growing of exhibition flowers, as it will exclude insect pests and birds.
 
Please Note
Always cover plants of seeds immediately after planting or sowing. Plants should be inspected to ensure that they are free from insect pests before they are covered. It is advisable to protect any seedlings which are grown for transplanting.

Cutting
Enviromesh may be 'cut' using scissors or an electric soldering iron and a 'straight edge'. Alternatively, cut edges may be 'hemmed' using a rot proof nylon thread. The net should be carefully lifted, cleaned and dried before winter storage.

Care of Enviromesh
If it becomes dirty, it may be washed using a mild detergent and warm (not hot) water. It is best stored in dry conditions out of direct sunlight. With care the netting should last for at least 7 years.
---